Skate Repair
New Hampshire
Sports Arena - 236 W. River Road Hooksett NH 03106, 603-669-8654
TSR - 5 Kelly Road, Salem NH , 603-898-7777
No Icing - 4 Hudson Park Dr, Hudson NH 03051, 603-883-7825
Pure Hockey - 248 Main Dunstable Road Nashua NH 03050, 603-598-9008
Skaters Edge - 48 South Main St. Manchester NH 30102, 603-668-9100

Pure Hockey, Hooksett - Rte 28 north Hooksett NH 03106, 603-518-7396
Massachusetts
Sports Etc. - 1303, Massachusetts Ave. Arlington, MA. 781-646-1600
Zwickers - 379 North Road, Bedford, MA. 781-275-0900
Pure Hockey Danvers - 139 Endicott Street, Danvers, MA. 978-750-6030
Everett Square Sporting Goods - 427 Broadway, Everett, MA. 617-387-6530
Pure Hockey Medford - 70 Salem Street, Medford, MA. 781-391-4071
Dynamik Sports - 163 Main Street, Reading, MA. 781-942-1153
King of Swing Golf and Hockey - 55 American Legion Hwy # 3A, Revere MA. 781-284-6100
---
New Hampshire
---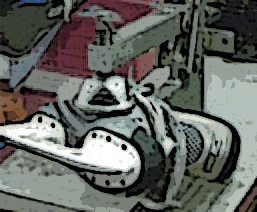 If you find yourself near Salem NH when your favorite skates start suffering take them over to TSR Total Sports Repair and let the experts Brendan and Dave assist your every need.

From boot reshaping to eliminate pressure points and blisters to Toe or Cap replacements along with all the types of skate repair and tweaking services you'd expect a full service hockey skate repair shop to handle.

Expert Skate Sharpening and Skate Repair TSR is located in Salem NH and now in Haverhill and Lawrence Mass.

I know both Brendan and Dave personally and have had excellent service every time I've needed it. They are great guys and you'll get great service.
---

If you're in and around the greater Nashua NH area, and need sticks, accessories, tape, visor polish, blades, socks, the name speaks for itself, Pure hockey.

Located conveniently in Nashua NH right off Major Route 3 exit 5W. Are you at the Conway Arena, or do you know where it is? Pure Hockey is practically across the street (route 111). Hop on Main Dunstable Road, head down a short ways and the shop is on your left. The knowledgable staff at Pure Hockey can help you with all the right equipment, advice, and sharpening you may need.

Number one in hockey for Greater Nashua, remember to stop by Pure Hockey.
---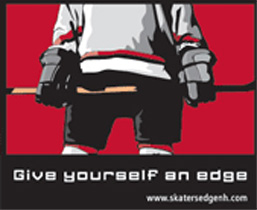 If you're in and around the greater Manchester NH area there's only one name for Skate Repair and that's SKATERS EDGE.

Skaters Edge is equipped to handle all your necessary repairs. Services include runner replacement, blade replacement, Tuuk holder replacement, boot stretching and heat molding

I know the owner Mike he's a great guy and always willing to take the time you need to be available for expert skate repair, analysis, and advice.

Years ago it was called Gosselin Skate Shop but the name changed and they have moved conveniently to Main Street in Manchester, just take route 293 North to Exit 5 left off the exit and they're up one block on the left as you turn left on to Main Street.


---
Sports Arena - CASH IS KING save 10% tax free





If you're in and around the greater Manchester NH area and looking for superior custom sharpening look no further than this, you need to go see Brian at the Sports Arena Pro Hockey Shop. His top of the line Custom Radius Machine performs the most precise cut.

Getting your skates done right is all that matters. For precision and custom Skate sharpening it's SPORTS ARENA Hockey Shop!

Sports Arena also handles all kinds of skate repair and they offer a full line of equipment. You'll find a wide range of elbow pads, shin guards, pants, shoulder pads, tons of gloves and sticks. They have plenty of other accessories to keep your game in top shape.

The owner Brian is a great guy and will do everything he can to make sure your visit will keep you satisfied and to make you a repeat customer.

If you are coming from Boston:
Take I-93 N
Take Exit 10 to merge onto NH 3A/W River Road North toward Hooksett 1.5miles, Sports Arena will be on the Left



---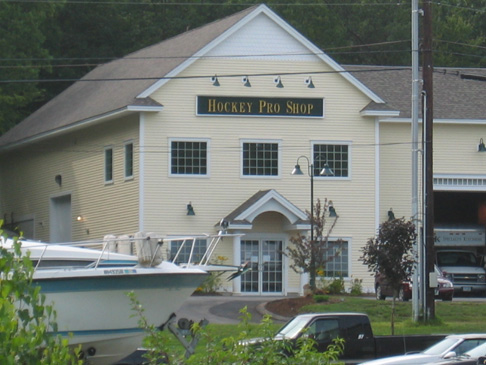 Serving Greater Hudson, Londonderry, Salem, Pelham, and Nashua NH No Icing Hockey Pro Shop is the best place to go for professional skate sharpening.

We are a family owned and operated Hockey pro-shop serving New England area hockey players . We are also the leading online source for custom skate sharpening and radiusing with skaters from around the U.S. and world shipping us their blades for professional skate services. We pride ourselves in our personalized customer service, and our attention to details. While we may not be as big as one of those chain hockey stores that tries to be everything to everybody at the expense of service and quality, our objective is simply this... to offer expert advice and to ensure our customers are not treated like just another sale. Everyone says they have great customer service, but we truly take service to the next level.
---
Pure Hockey - Hooksett NH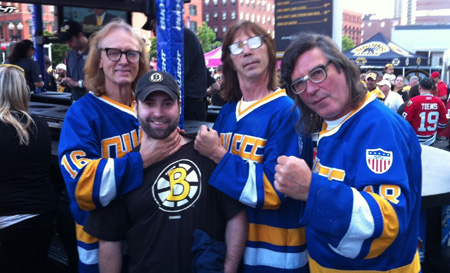 If you're in and around the greater Manchester / Hooksett NH area and looking for the finest in hockey equipment with vast selection, go visit Pat Moore at the new Pure Hockey location in Hooksett. Pure Hockey, Hooksett NH

Hello, my name is Patrick Moore and I'm the Store Manager at the Hooksett NH location. I started with the company in the fall of 2007 at the Nashua NH store, while I was attending school at Daniel Webster College for Aviation. Since then, I was promoted to Store Manager in May 2012 in our new Bridgeville, PA store, then I came back to NH in the Spring of 2013 to manage the Hooksett store. I've been playing both hockey and lacrosse since I was a young boy and have been passionate about ever since. I feel very lucky to be able to work in a field that allows me to be around both sports every day and talk to people who feel the same way I do. I look forward to seeing you soon at our Hooksett location!

I met the owner Patrick and he knows his hockey, played the game, and manages the new Hooksett store that has a great selection of all your hockey needs to keep your game in top shape.

If you are coming from Boston:
Take I-93 North NH
Take Exit 9N to merge onto NH 28 North / Hooksett Road, toward Hooksett 2 - 2.5+ miles, up along on your right hand side in a strip mall near K-Mart. Got GPS? The address is 1271 Hooksett Rd. Hooksett NH



---
Massachusetts
---
Sports Etc. - Everything for Hockey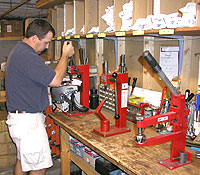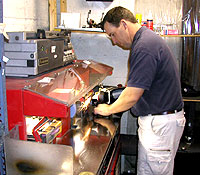 Approximately 8 miles from downtown Boston, by way of Massachusetts Avenue is Sports Etc, and their logo Everything for Hockey says it all.

Everything for Hockey - Sports Etc, 1303 Mass Ave Arlington

At Sports Etc we know the upkeep and repair of your equipment is just as important as the initial purchase. We offer a wide range of services make your hockey experience greater. We offer professional skate sharpening whether you are looking for a standard cut, a specialized cut, or a computerized custom radius. We fix and repair ice skate blades and holders with a very quick turnaround time. We also do some hockey and goalie equipment repairs, Rollerblade repairs, and more. We are a full service hockey shop in every sense of the word. Even when it comes to fitting skates we have many machines and tools in our workshop to tweak your skate for the best fit possible!

---
H.A. Zwickers, Inc.



Wayne, Joan and the knowledgeable staff will take care of your every need. They repair just about anything you can give them they also carry top of the line new skates and new equipment, they've got what you want, and if they don't they can get it. I've purchased skates there myself, the service is great, the cost is low, and the skate sharpening is awesome.

Near Route 3 and crossroads of rte 4 and rte 225. 379 North Road Bedford Massachusetts, is the home of H.A. Zwickers, Inc., and they repair Hockey Skates, Figure Skate, In-Lines, Hockey equipment, Goalie Equipment, Bags and accessories. If it can be fixed, it can be fixed at H. A. Zwicker's..

From their beginning in Arlington, Massachusetts in 1932, to the steadily expanding store in Bedford, the aim has always been true… Provide customers with the knowledge and expertise that has been learned from the frozen ponds to the pros!


---
Pure Hockey - Danvers MA


Pure Hockey's quality stands high, but our prices are competitive, check out our selection of cheap ice hockey equipment from the best brands with the latest styles of Hockey Skate Replacement steel and skate holders.

On Route 128 North Shore Danvers MA inside the Endicott plaza is Pure Hockey of Danvers.. This shop is real easy to get to, right off the major highway. They service, sharpen, have all the latest skates, sticks, blades, protective gear, tape, you name it...to keep you on top your game.

---
Everett Square Sporting Goods - Everett MA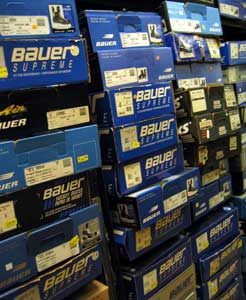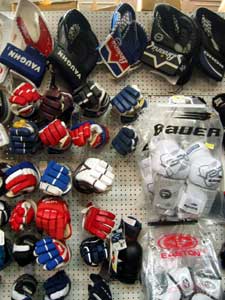 I grew up on the same block playing street hockey with Paul Ventura. His father Tony Ventura owned and operated the family business. "Tony" as he was known by many, co-founded the famous sporting goods store with former partner, Anthony "Tony" Lucci in 1948, growing what is now the last of the downtown sporting goods stores that still to this day, refuses to fall to the chain stores thanks to sons, Paul and John, both of whom keep Everett and the surrounding communities in sports uniforms and athletic equipment.

The Ventura's have been in the hockey business a long time. They carry tons of all the top name brand skates, they outsource their skate sharpening, have all your accessories, protective equipment, sticks...

Located on Route 99 Everett Square Everett Square Sporting Goods.. We have many BRAND NEW, rare and hard-to-find items, including first-quality discontinued models from numerous companies, past and present.

---
Pure hockey - Medford MA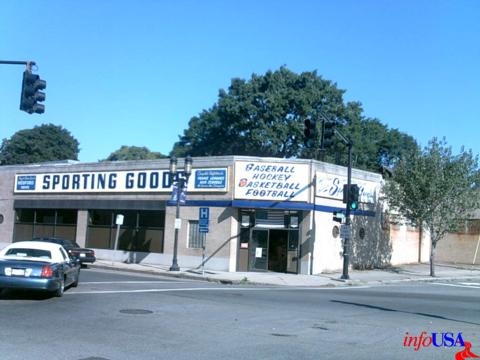 Formerly Medford Square Sporting Goods of 70 Salem Street downtown Medford Square, this established hockey location has deep roots and it couldn't be more fitting to have changed hands to Pure Hockey. And as the name Pure Hockey implies, they can suit your every hockey need fear not.
| | |
| --- | --- |
| | Hi. My name is John Diradourian I am the store manager for the past four years of the Pure Hockey store at Medford Square in Medford, Massachusetts. I have over twenty-three years of retail experience and I am originally from Long Island, New York (and even back then I was a Boston fan). I relocated to the Boston area back in 1995 and I am an avid sports- fan, from following the local teams to what's happening across the nation. My hobbies outside work are playing softball and baseball with my kids. So when you come in to shop at Pure Hockey of Medford Square make sure you say hi, I would really like to meet you. |
---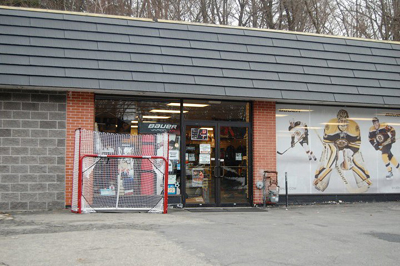 Right off Major Route 95 at intersect route 28 south. Dynamik Sports of Reading MA

For over 25 years, Dynamik Sports has provided excellent service to customers seeking quality sporting goods and attire. In 1984, Peter and Mark Doherty began a family-owned business that caters to sports-oriented youth and adults. Their commitment extends well into high school hockey where Peter served as head coach of the Reading Rockets for 30 years with Mark by his side as assistant until 2009 when Mark was named head coach.

Visit our 163 Main Street, Reading location from 9 a.m. to 6 p.m. Monday thru Friday or 9 a.m. to 4 p.m. on Saturdays or call 781-942-1153 for more information.


---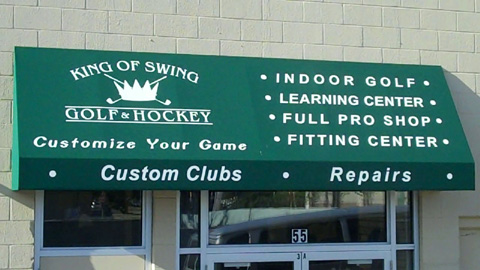 King of Swing Golf is in Revere in Bell Circle on 55 American Legion Hwy, Revere, MA 02151 (781) 284-6100

They perform professional precision skate sharpening, and sell hockey equipment as well.

Top / Home
---
Home / Summer camps / Sign Up Forms / Clinics / Private lessons / Referee / Organizations / Testimonials / About Us / Philosophy / Contact Us / Skate Repair /

---
Copyright © 2012 Radius Edge Power Skating LLC. All Rights Reserved
Revised - December 10 2015

Skate Repair in NH
Quality Skate Repair


Expert Service


Professional Advice
Purchase New Skates